Performing a SWOT analysis on your business existed long before digital marketing was even a consideration. Looking back to the 60s / early 70s, while the hairstyles and clothing are a distant, highly patterned memory, SWOT analysis emerged as a handy strategic matrix that still remains relevant to all businesses today. SWOT analysis aims to identify the Strengths, Weaknesses, Opportunities and Threats of (and to) a business, although it could equally be used to assess other aspects of your life; changing career – dating, even!
So how can we apply this technique to a social media audit? Before you get started, you should remind yourself of your social media goals (which should align with your business goals!) and your social media sales funnel and reflect on whether you are achieving these. From this, consider the following areas for analysis:
First, let's assess your brand identity: this should be a strength, and if not, an opportunity. How do you look on each of your social platforms? Are your profile pictures and cover images either consistent or appropriate for the medium you're on? Queen Dolly of Parton shows us how it's done here!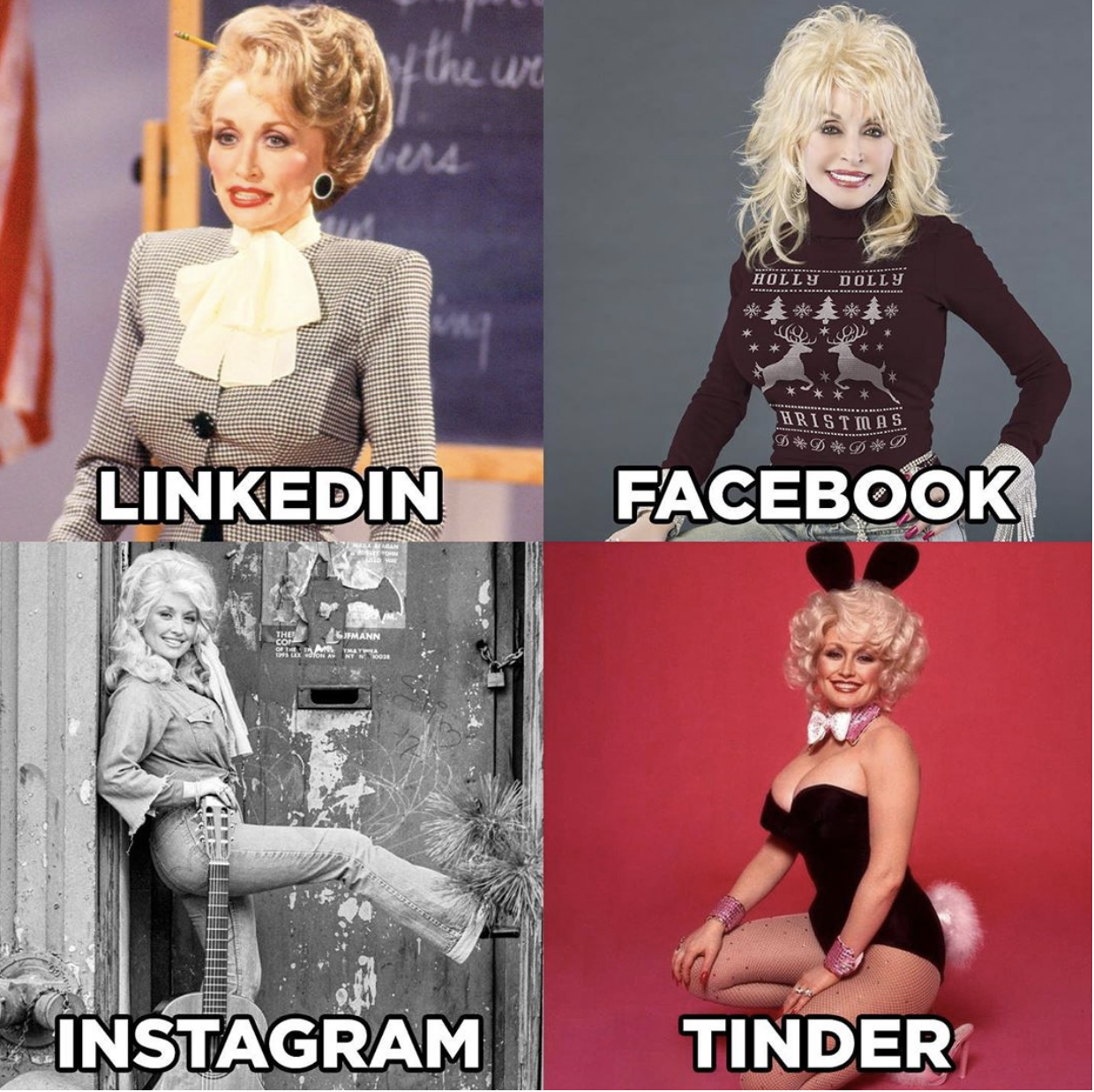 Secondly, take a look at your posts' engagement rate on each platform. Is anybody engaging meaningfully? Is it the same people each time (cheers auntie!)? Do people not only react to but share your content on their own profiles? Are there any opportunities here, like creating partner content to leverage each other's audiences, or can you post some essential industry news before anybody else?
Next, assess your posting schedule, and perform the same SWOT analysis. A threat here might simply be the lack of time you have to dedicate to social. Similarly, the introduction of new platforms can either be an opportunity or a threat; it could get you closer to a more niche demographic, or it could dilute your message if you're trying to be across too many networks.
Lastly, how easy is it for customers to contact you or make a purchase? In the case of Instagram, that might mean adding an additional service to your profile, like Linktree, which allows you to build a menu of quick links for your followers. Do you have a strong call to action across all platforms? Do your potential customers understand your service?
If you still need some direction with your SWOT analysis, then here are some additional questions to consider:
Do you have a balanced content mix and are you maximising the preferred content type of each platform? For example, Reels have exploded in popularity on Instagram. Are you utilising this new format?
What is your hashtag strategy? Are you maximising hashtags to increase your discoverability?
Is it easy to find your social media buttons on your website?
What is your conversion rate from each social media platform?
What is your competitive landscape like? What is the current status of the economy?  How do these external factors affect your social media success?
Interested in learning more? Join my next Social Never Sleeps Mastermind Group here. One element of the online course is a social media SWOT analysis from every member of the group.