Every industry is guilty of it, and perhaps marketing the most… yes, I'm talking about the language of jargon. If you've ever seen the brilliantly scripted W1A or 2012 programmes on BBC, you'll know that the marketing agency featured across both series' provides the writers with a lot of hyperbole to make light of, but there are a few key terms that you'll hear between even the most level-headed of marketers, and understanding them can unlock a world of strategy for you.
What does SEO mean?
SEO stands for Search Engine Optimisation, and it simply means preparing your website content in the best way to get it ranking on search engines. There are on-page factors (what's written and how it's written) and off-page factors (speed of your website, strength / age of your domain etc). You'll know that achieving that coveted 'top of Google' spot for your industry has a huge impact for businesses, but did you know how much? According to Ignite Visibility, positions 1-5 on Google's search results account for around 70% of all the clicks to websites. That's one heck of a difference. If you find yourself in position 6, there's only around 10% chance your website will be clicked on, with it diminishing from that point. Find yourself on page two? Forgeddaboutit. You're more likely to bump into your ex on a Hebridean island*
*I don't have the actual stats for this, but safe to say, the percentages are fairly similar.
What does Bounce Rate mean?
Have you ever walked into a shop, taken an awkward look around the shelves ahead of you, then had to try to avoid eye contact with the sales assistant as you gingerly back out again? That's the real life equivalent of your website's bounce rate! It refers to single-page sessions, i.e. the number of occasions where a visitor landed on your website, took one quick look around on that page, and left without any other interaction. If you're a tradesperson or service-based business, like a taxi company, a high bounce rate isn't such a bad thing; people may have gone to your website to just find your phone number, for example, but as you can imagine, for an e-commerce business, that single-page session is an indication that your content isn't quite cutting it for what they're looking for.
What does Organic Reach mean?
There are two types of marketing acquisition – free and paid for. Paid marketing takes on many forms, from both traditional forms of marketing like radio and press, to digital methods, but the audience that we gain for free can be referred to as our organic reach. There are different ways of improving your organic reach, and that can be both on your website, but equally your social media accounts too. SEO (see above) is arguably the best way of increasing organic reach to your website, and for social, each different platform has its own tips and tricks for getting in front of more pairs of eyes. For Facebook, its algorithm has tended to favour content from Groups in recent years, whereas Twitter relies still on hashtags. We cover tips and tricks to improve organic reach on social, on my signature Social Never Sleeps Mastermind Group course – if it's something you want to get to grips with, I'd recommend enrolling on my next course this September.
What does Engagement Mean?
Have you ever been sat at a table outdoors, enjoying dinner al fresco, when some troubadour with a violin decides to serenade your table, uninvited. Now, you could argue that his reach is strong – there's no ignoring a musician playing at full volume over your entrées, but engagement is likely to be low. He might not get the applause, thanks or even payment he may have hoped for. The same can sometimes be the case with the marketing content you put out. Although arguably presence, or brand awareness is important, really the success of your campaign often comes down to its engagements stats; that can be the number of 'likes' on your posts, a follow, a share, or perhaps a click on the contact button of your website.
What does CRM mean?
CRM stands for Customer Relationship Manager. This can take many forms, with varying levels of detail. In its simplest form, it is a list of your customers and some level of information about their contact details and their recent interactions with you. Your email inbox alone might not give you enough insight into the relationships with your customers, as it doesn't encompass all forms of communication (i.e. phone / text / face-to-face) and neither does it offer a digest of all their interactions with you, from transactional data like total spend, to helpful reminder notes about their kids' names. You don't have to use a fancy or paid-for CRM, when even an Excel spreadsheet will deliver the basics, but companies like Dubsado, Capsule, Salesforce or Hubspot will give you a level of functionality that can be a game-changer if your customers are numerous.
What does PPC stand for?
PPC stands for pay-per-click, and while many people associate this entirely with Google Ads, it can also relate to social advertising, or affiliate marketing. It's quite niftily named, as it happens, as it refers to you 'paying' for someone 'clicking' to visit your website, whether that's from a Facebook advert, Google sponsored search listing or from someone's blog, to name a few. How much you pay for every click will depend on the platform you're using, and the competitiveness of the term you're 'bidding' on. For example, at time of writing you could expect to pay £17.88 every time someone clicks on the term "personal injury claim" whereas "dolls house kits" will set you back just £0.24 a click, so you can see how far a £50 / day budget would go for either of those businesses.
What does Influencer Marketing mean?
As far as jargon goes, "influencer marketing" is one of the latest additions to the marketing lexicon, and has a lot to do with the rise of Instagram personalities. Sales of the Minky cloth peaked in 2018, despite the product being part of Minky's cleaning range long before that date. Why? A certain 4+ million follower personality, Mrs Hinch started gaining a huge following around that time, and was vocal in her love of the domestic essential. You can see below how the increase in searches for "Minky Cloth" and "Mrs Hinch" correlate, which has meant big business for the blemish-busting business. Now that is influencer marketing in action!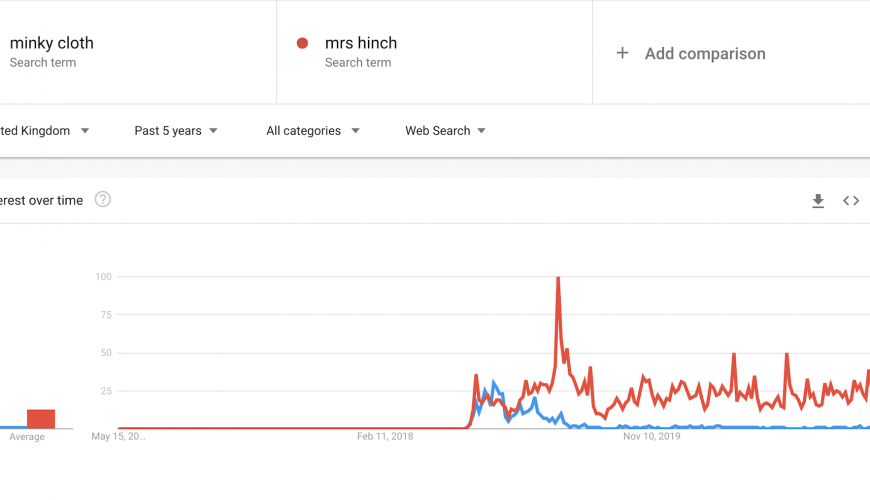 What does Affiliate Marketing mean?
Similar to influencer marketing, affiliate marketing leverages the popularity of a commodity – usually a brand or blog, in this case, rather than an individual influencer – in selling particular products. If you've found yourself looking for "How to Make the Perfect Margarita", you'll most likely have found a number of blog posts alluding to the best technique, but before you got to that point, bloggers may have suggested a whole pile of kit (the sleekest shaker, the perfect strainer) to buy in order to achieve cocktail nirvana. Chances are, if this person is taking their blog seriously, they'll provide you some links to buy these items, often explicitly telling you that they may receive a kick-back commission from resultant sales.
Are there any more terms that have you perplexed? Do some marketing phrases get bandied around and you've always sheepishly nodded while meaning to look them up later? Please let me know – send me an Instagram DM and I will gladly shine a light on it for you.